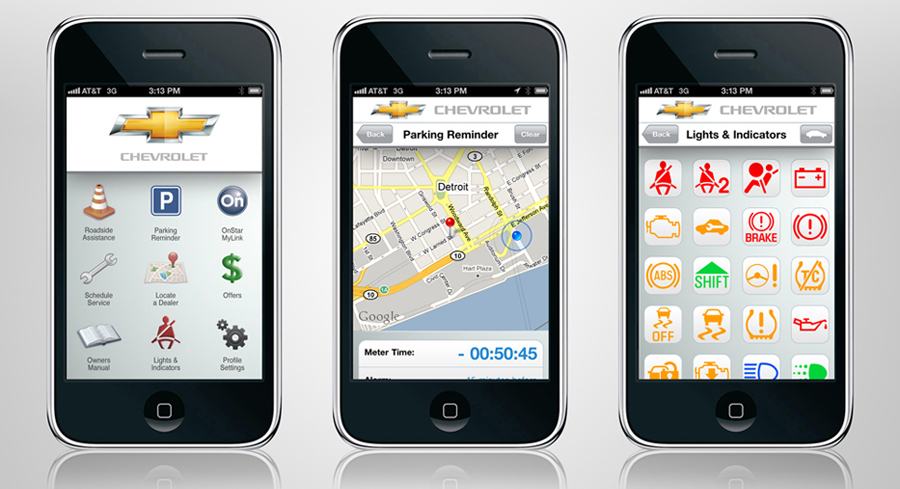 Early Mobile Applications (2009-2013)
The GM Dealer Associates used GlobalConnect to access General Motors enterprise applications for both Sales and Service tasks. In 2010 the Compuware-staffed mobile team began the process of mobilizing key applications, making them available to Dealer Employees via company issued iPhones and (soon after) iPads.
Key applications for the Service group included SMIT (Service Maintenance & Inspection Toolkit) and DSA (Dealer Sales Assistant). I was involved as the UI/UX Creative Lead in the earliest phases of ideation for these projects when the work was handled by Compuware Professional Services. Later, I was involved in their maintenance and updating through 2013 as a direct GM Employee for the GM Mobile Development Team.
The dealer employees had historically relied on clipboard and paper, with the data being entered by admins into the desktop GlobalConnect workbench applications. Mobilizing the Workbench applications modernized the sales and service offices, reduced waste, and made the employees more efficient and effective in their tasks, eliminating the need for the extra step of entering information into the system off of paper notes. The suite of apps went through many iterations over the three years I was involved with them, and have continue to evolve up to the present day.
Apps Designed while with Compuware / GM (2009-2013):
• GM Dealer Sales Assistant (native)
• GM myOwner apps – retired (native) – myChevrolet, myBuick, myGMC, myCadillac
• GM Field Product Reporter (native)
• Cadillac CUE Training App (native)
• GM Service Workbench (native)
• GM M.P.V.I. (native)
• GM Fleet Guide (native)
• GMC/Chevy Business Elite (native)
• GM Showroom apps – retired (native) – ChevyShowroom, BuickShowroom, etc.
• GM GlobalConnect (web)
• GM Launchpad v1/2 (web)
• GM Employee App Store (web)
• GM Production Counts (web)
---
PROJECT(S) DETAILS
General Motors, Enterprise Mobility Applications
Iterations from 2010 – 2013
Platform: Native iOS (iPhone and iPad)
Objective: To modernize the Dealer Sales and Service offices by replacing paper notetaking with native applications for company-issued iPhones and iPads. Projects utilized the existing workflow and back-end services of the desktop GlobalConnect Workbench applications.
Role: Mobile and Emerging Technology Consultant with Compuware Professional Services; later Sr. UI/UX Designer at General Motors
Gathering initial business requirements
Ideation & Concept Development (UI/UX of Concept Design)
Production Graphic Design, Art Direction of Junior Designers
Managing business goals, expectations, and relationship with business client
Conducted on-site Dealer observation and interview sessions
UI updates, UX iterations for optimization of tasks
---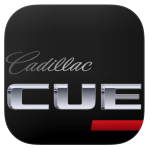 Cadillac Cue Training Application
Involvement: Ideation & 1.0 release (2012) – 1.4 release (2012)
Details: The Cadillac CUE training app was originally designed by Compuware Professional Services' GM Mobile team to be a training app for Dealer Sales associates to help them explain and sell the cutting edge CUE system to customers. However, shortly before release GM decided that the application would be valuable for new Cadillac owners as well. There was such a need for training for the early CUE system that an iPad with the training app was included with Cadillac purchases in 2012.
The Cadillac CUE training app included video tutorials and interactive lessons on how to complete essential tasks such as dialing phone numbers and setting radio stations. Users earn diamonds for completing modules, which was initially intended to be tied to Sales Employee awards. This feature persisted after the decision to make the CUE training app a public facing app.
As the CUE system has become more familiar to users and easier to use, the need for a dedicated training app has diminished. Though not sunsetted yet, the CUE training app has not been updated since 2012.
---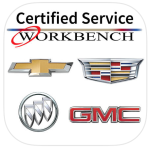 Service Workbench Tools

Involvement: Ideation & 1.0 release (2012) – 3.2 release (2013)
Details: The Service Workbench mobilization project involved several separate Workbench a
pps that allowed service technicians to check-in vehicles, consult a multi-point vehicle inspection and document any vehicle damage at check-in, schedule maintenance to be performed, document customer agreements to maintenance, see upcoming recommended maintenance, and much more.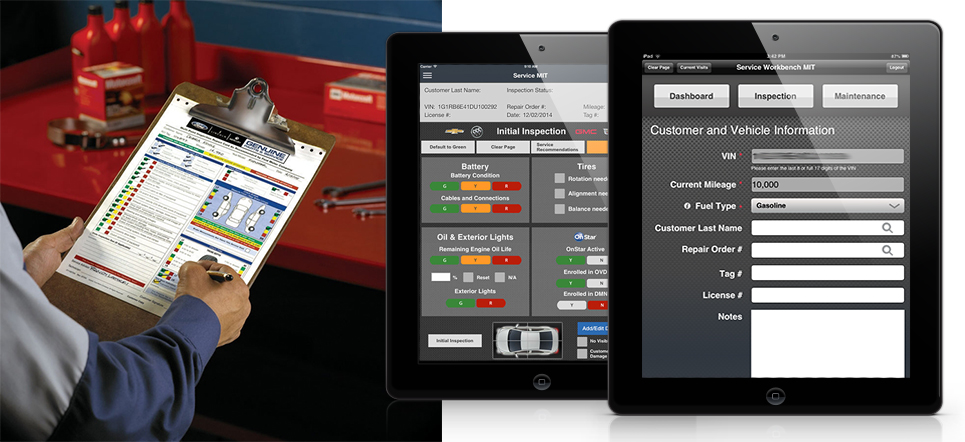 ---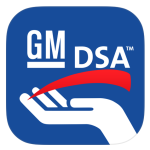 Dealer Sales Assistant 
Involvement: Ideation & 1.0 release iPad (2013), 1.0 release iPhone (2012) – 1.3.4 (2013)
Details: DSA began as an iPad app first (2012), before being adapted to the iPhone (2013). The workflow was a mobilization of the pre-existing Dealer Workbench available through GlobalConnect. This product continues to evolve with regular updates and new features. On-site Dealer visits were instrumental in understanding the Dealers' work process which included much of the pre-existing desktop workflow, but also uncovered tasks that went beyond the workbench which we were able to incorporate into the mobile app, such as emailing information to clients, calculating incentives, and checking GM Credit Card balances directly from the sales floor.