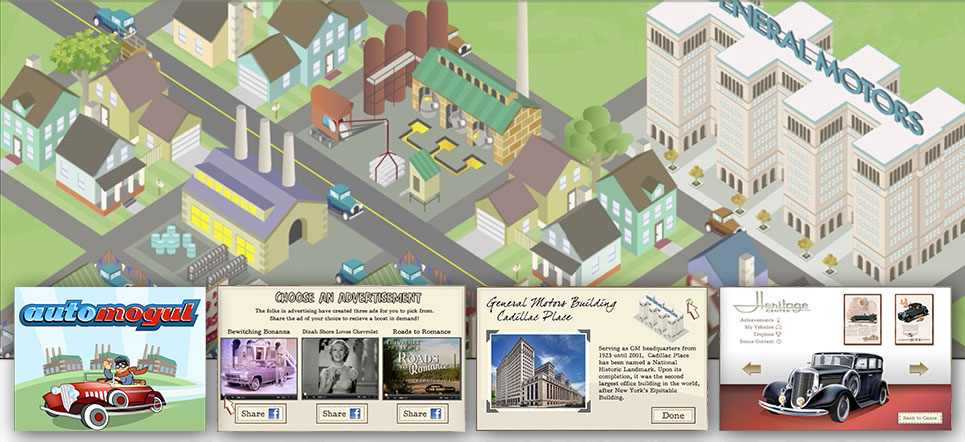 The Automogul game is a component module of the larger I AM GM app concept. In 2011, morale was still low as a result of the highly politicized bankruptcy. The Automogul game was designed to serve three purposes: first, to increase awareness of and pride in GM's rich history of innovation. Second, to reward employees (through tokens that could be exchanged for prizes) for participation in learning GM history. That was part of the broader gamification aspect of the I AM GM concept. Thirdly, a lighthearted approach to leverage fun and trending social strategy (zynga-esq game) to improve employee morale. Ultimately, it was suggested that the game be developed for expanded release to the public, focusing on overturning the conception that "General Motors is not an innovative company," and may have been leveraged by the GM Heritage center for this purpose.
As far back as 2006, researchers were identifying that casual games provide stress relief, mental balance, and (what I like to describe as) 'zen-like' meditative mental rests. The disdain for social games, I believe, is a reaction to manipulative strategies by companies like Zynga to commodify otherwise unsophisticated games into large profits, either by upselling users or by infiltrating their social networks. If we remove the profit motive from these games, maintain the addictive quality, and introduce factual historical information I believe there is the opportunity to bring measurable value with a casual game.
Automotive history seemed to be a great fit for a "Farmville-style" game. Bringing the industrial revolution to an agricultural digital metaphor seemed fitting, as well. Instead of producing crops, players would work to produce technological components (such as tires, paint, etc.) which could be combined at assembly plants to 'build' vehicles. All this activity was augmented by factual historical information: the user could browse through actual design sketches of the vehicles they were producing, see TV commercial clips from the time period, learn about the process of developing the first alternatives to black vehicle paint, arrange real historical landmarks on their gameboard, etc. We strove to balance fun with information so that players would be willing to play longer and thus learn more. And, of course, ultimately we wanted them to involve their friends and spread the word.
---
PROJECT DETAILS
Client: General Motors, Enterprise Mobility Applications
Date: September 2011 – February 2012
Platform: Concept Video (targeting native mobile app or web)
Objective: 
Role: Compuware consultant through the Mobile Center of Expertise
Ideation & Concept Development of game dynamics
Trend research
Executive Presentation Pitch (including script and copy writing)
UI/UX Design (concept designs)
Art Direction of production phase