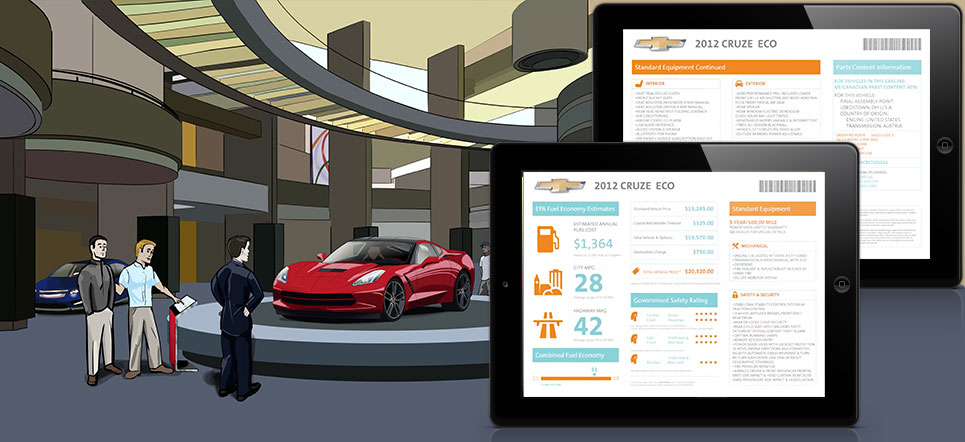 In 2013 GM held its annual IT Innovation Challenge. I entered with a concept for a 'digital window sticker', specifically targeted at improving the showroom experience of 'GM World'. 'GM World' is located in the basement of Detroit's Renaissance Center. It is a vehicle showroom that is open the the public. The cars exhibited rotate often between the latest models as well as historical vehicles. Unfortunately, as the showroom is not dealer-linked (and thus does not directly drive sales) the space is not outfitted with the level of technology that you might expect to see at an auto show or dealership. I saw an opportunity for GM IT to improve the customer experience in this space, while simultaneously being able to test new interaction ideas in an area where the IT teams could observe the public's interaction and response.
My concept was chosen by the contest's leadership and quickly advanced. In the final round, I was given one week's funding to create a video presentation to accompany the written case study and comps I had originally submitted. I recruited the mobile UI team as well as some former Compuware coworkers to help assemble the video with just one week's notice. We pieced it together on a shoestring budget in between the requirements of our regular project work.  The idea beat out three other finalists and was selected by the North American CIO to win the IT Innovation Challenge for North America.
The concept video was collaged from a variety of sources and meant for internal purposes only.
---
PROJECT DETAILS
2013 GM IT Innovation Contest, Winner North America
Client: General Motors
Date: Spring 2013
Platform: Tablet
Objective: A tablet application to 'replace' the paper window sticker, offering casual shoppers the richer experience they are accustomed to receiving when shopping online in the dealership or other showroom settings.
Role: 
Ideation & Concept Development
UI/UX Design (concept & production assets)
Video presentation script
Art direction of video