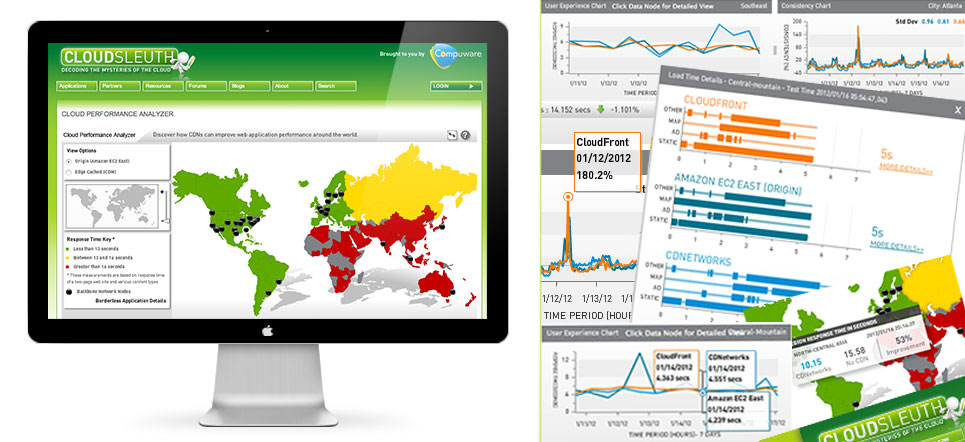 The CDN Performance Analyzer focuses on visualizing the dynamic nature of borderless application performance as seen by a geographically diverse user community. A reference application is deployed to a single, globally accessible hosting site. Web transactions are run continuously against the reference application using the Gomez Performance Network – Compuware's global network of instrumented transaction agents. The data collected from these agents are collected and aggregated into a cloud performance database. The CDN Performance Analyzer enables users to interact with the data from the Cloud performance database.
The world-view map presents regional response times in one of four colors: green, yellow, red, or gray. The map is intended to provide context for additional exploration. The colors are intended to give an overall, subjective perspective on performance rather than an objective measurement. The thresholds for green, yellow, and red, defined in the Response Time Key at left, are admittedly arbitrary and reflect the large number of objects in the reference application. No data is available from grayed-out regions.
The default world-view is colored based on data retrieved using the origin-only test transaction profile. As such, it reflects the end-user experience for an application that is not utilizing edge caching. The color of two adjacent regions may be based on the results retrieved from two different CDN services. Pop-up displays (tooltips) in each region identify the best performing CDN for that region.
I was responsible for creating the analytic interface that sat within a website frame designed by Compuware's corporate marketing team. I was involved with previous iterations of the Cloudsleuth project in a consulting capacity, but with the CDN Performance Analyzer phase I had the opportunity to be more "hands on" throughout several sprints which included initial requirements gathering, wireframes, concept designs to set the UI/UX direction, interactive flash catalyst 'clickable design prototype'. Once the project went into production, my role was to give the developers direction and feedback on visual choices, color, and usability concerns, keeping in mind that many choices were fixed due to charting package constraints.
Below is a video capture of the live site before it was sunset in 2014:
---
PROJECT DETAILS
Project: Cloudsleuth.com, CDN Performance Analyzer
Client: Compuware, Gomez APM
Date: 2011
Platform: Web
Objective: To create an interface that allowed the general public to view analytic results on global CDN performance tests, while simultaneously illustrating Gomez' analytics capabilities and test-piloting new analytic visualization strategies.
Role: UI/UX Designer, Compuware APM
Visualization Strategy Ideation
Working with key stakeholders to develop feature requirements
UI/UX Designer (concept)
Design Creative Lead (production), working closely with a front end developer design changes were made directly in the code.